Dalton and I often tire of the same old camping lunch of tuna/crackers, tuna sandwich, or pb&j variations. During cooler months, we love to prepare a salad for the crag that will satisfy our taste buds as much as nourish our bodies. This recipe was inspired by our climbing pals in Chattanooga. We climbed with them at The New River Gorge last October and were so envious when they whipped out their loaded quinoa salad for lunch one day that we brought the idea back home with us to Tulsa.
If you're thrown off by the sardines, they can easily be substituted with canned mackerel or tuna. However, like tuna/mackerel, sardines are rich in omega 3 fatty acids but have the advantage of being more sustainable since they are lower on the food chain, which also lends toward lower mercury content. I'm actually not a big sardines fan, but when flaked into the salad the flavors become so balanced. The citrus and parsley help to counter the strong fish taste, so don't omit those. Everything else can be easily swapped, as shown below.
Quinua, Veggie, & Sardine Salad
Serves 4
1 cup quinoa, uncooked
3 large carrots
2 celery stalks
1 small beet
1/2 small apple (~2 oz)
1/2 c parsley (de-stemmed)
juice of 1 lemon
2 tbsp olive oil
salt & pepper to taste
4 cans smoked sardines
Beta
In a medium pot, add 1 cup quinoa and 2 cups water or stock to the pot. Bring to a boil, then reduce heat to a simmer and cover pot with a lid. Cook for about 10 min, until liquid is absorbed. Once cooked, allow the quinoa to cool to room temperature. Meanwhile, finely dice the carrots, celery, beet, and apple. In a medium tupperware (these are perfectly sized for this recipe and are ideally shaped for our cooler), combine vegetables and parsley, put the lid on, shake it to mix, and set aside. Store the quinoa in another medium tupperware, add lemon juice, olive oil, salt, and pepper, and shake to mix. Refrigerate both containers up to 5 days. The canned fish will remain separate until you are ready to eat it.
*Storing quinoa separate from the veggie/parsley mixture will improve the longevity of the veggies as the oil and citrus in the quinoa will break down the veggie/parsley quicker. On the day you're ready to eat, combine them in a to-go container so it's crag-ready. When I'm ready to eat, I open the canned fish and flake it to the salad.
Variations
Veggies:
red onion for beet
kale (sliced chiffonade), simply add
baby spinach, simply add
baby kale, simply add
mustard greens (sliced chiffonade), simply add
Fruit:
dried cranberries for apple
or omit fruit completely & it's still great
Grain:
millet
buckwheat
Fish:
canned mackerel
canned tuna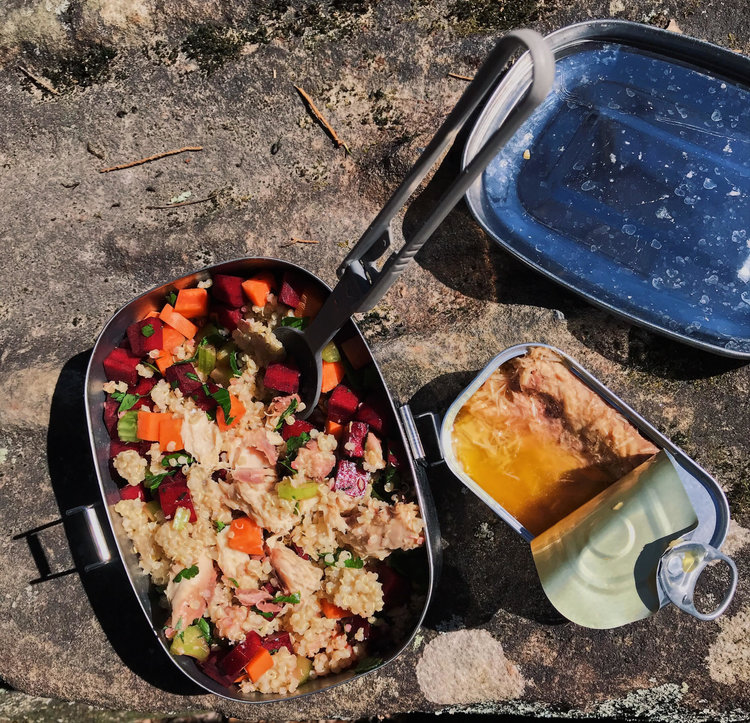 Food Safety Note:
USDA recommends foods that need refrigerating should not be consumed if held above 40 degrees F for more than 2 hours as this can increase risk of rapidly growing pathogenic bacteria. So, during the warmer months it's best to pack this in an insulated lunchbox with cold pack. Bend this rule at your own risk.