If you're new to camping or want to improve your camp cooking game, this list of camp-kitchen essentials will help ensure you'll be well-fed away from home.
Stocking up on some camp cooking essentials is a step toward delicious, healthy, and easy meals while camping. Packing your camp kitchen doesn't have to become a chore, either. You can avoid the frenzied Friday evening packing situation by dedicating utility storage tubs to food and kitchen-ware storage to improve packing efficiency. Storage tubs are a common way to pack camping (and climbing) gear. Dedicate a smaller tub to food, and a larger tub for cookware.
Keeping everything you need in a bin means you'll likely never forget crucial items like fuel or a lighter, for example.
Camp Kitchen Bin
2 propane tanks
Lighter
small burner (if you don't have a large camping stove)
1 pot with lid
1, 12in cast iron skillet
Small collapsible strainer
spatula
small tongs
coozie(s)
plate
bowl
1-2 eating utensils
Cup
Insulated mug
French press or pour-over
6 inch knife- preferably with sheath
small cutting board
can opener
clean dish drying towel
Dish scrubber
dish soap
2 Collapsible bins (for washing dishes)
trash-bags
Plastic produce bags (to use as mini trash bags- great to bring to the crag)
can opener
Food Bin
We like to keep some pantry staples in our food box and add to it a day or two before our trip. Staples include:
Olive oil
Salt
Pepper
Blackening Seasoning*
Electrolyte powder (I love Skratch Labs)
Quick-Cooking Oats
Sweetener (small container of honey, agave nectar, or brown sugar)
Tuna & Salmon Pouches
Quick-cooking grain pouches (like this)
Ziplocs or Reusable ziplocs**
*Blackening Seasoning- Universal seasoning for chicken, pork, and fish. 2 tablespoons paprika, 2 tbsp chili powder, 1 tbsp onion powder, 1 tbsp garlic powder, 1 tsp cayenne pepper, 1 tbsp ground black pepper, 2 tsp dried oregano. Mix together and store in a small mason jar.
**Ziplocs are certainly not eco-friendly, but there are plenty of reusable ones on the market now. You can also try using the beeswax wrap, although I caution the use of these in very warm temperatures due to melting, they aren't recommended for meats, and aren't water tight so cannot be stored in an icy cooler.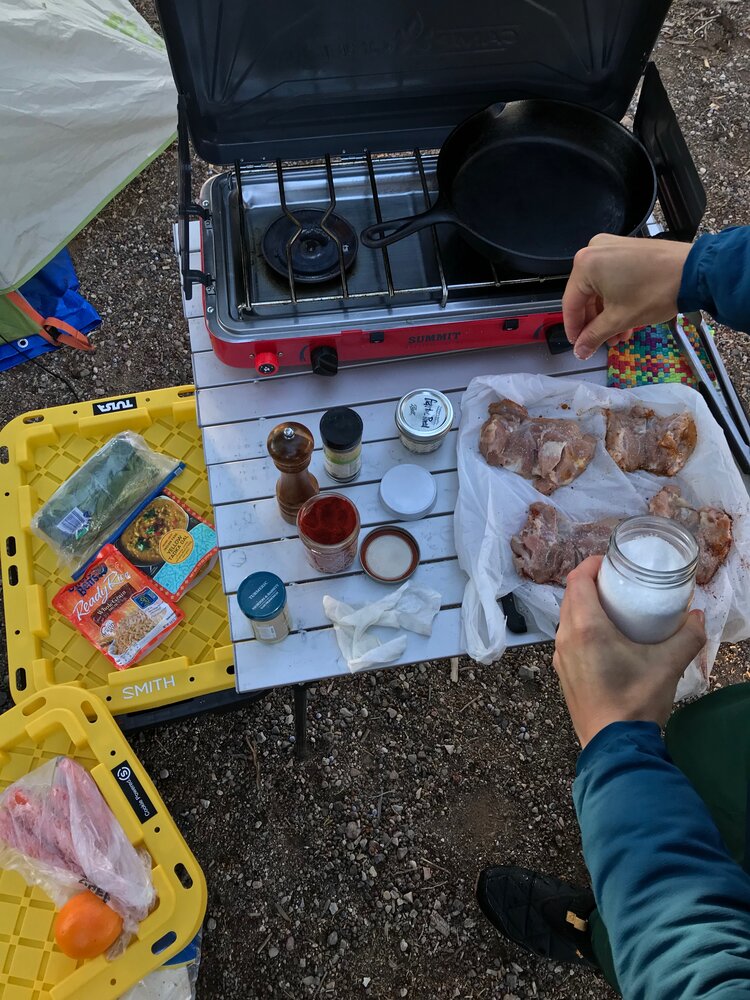 Camp Kitchen
Dual-Burner Propane Stove – You don't need a double burner stove, but it sure is nice to multi-task, say to boil water for pasta whilst cooking meat.

Table – If you know you always camp at a site with a picnic table, then this may not be necessary. However, if it's a mixed bag or you frequently camp at primitive sites, it's super helpful. A simple square "dining" table is multi-functional doubling as prep space and eating space. However, if you're looking for a super functional camp kitchen space, the Mountain Summit Gear Deluxe Roll Top Kitchen looks awesome.

Cooler – It's true that the higher end coolers like Yeti and RTIC keep things colder, longer. But, if you mostly do weekend camping trips, you can definitely get by with a cheap cooler until you're ready, if ever to splurge on the higher end ones. Don't forget a thermometer to monitor safe temperatures. 

7 Gallon Water Jug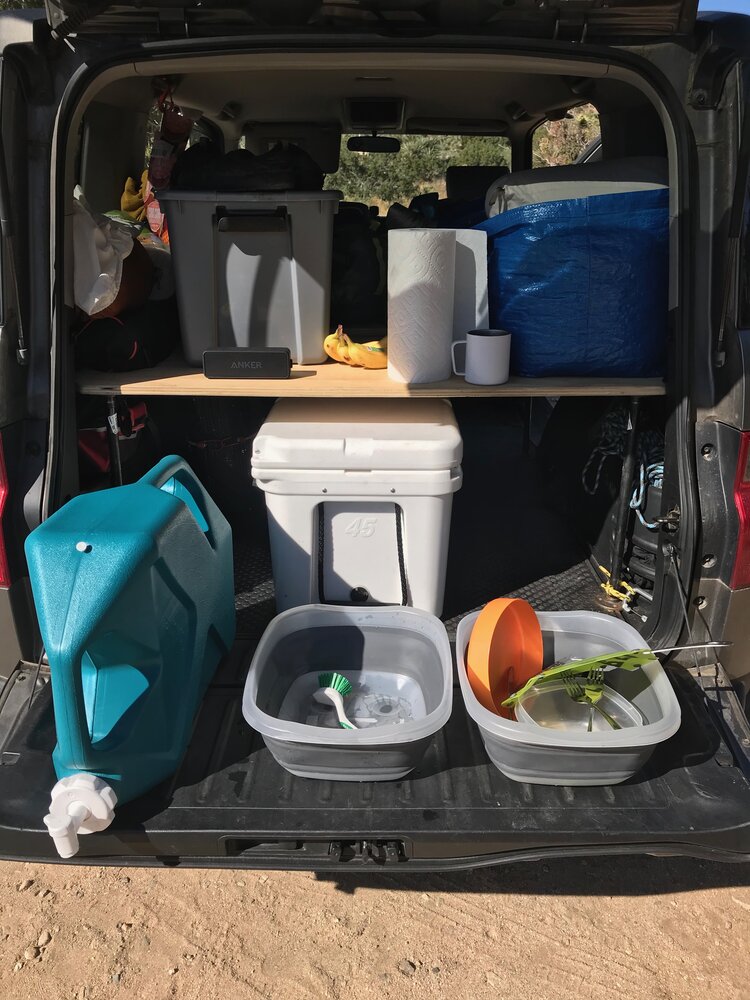 This essentials list will help you prepare countless meals while you're off the grid, and storing it in tubs will quicken the packing process, help keep your car organized, and improve efficiency and convenience when you arrive at your favorite camping spot.
Download this handy checklist so you don't miss a thing: